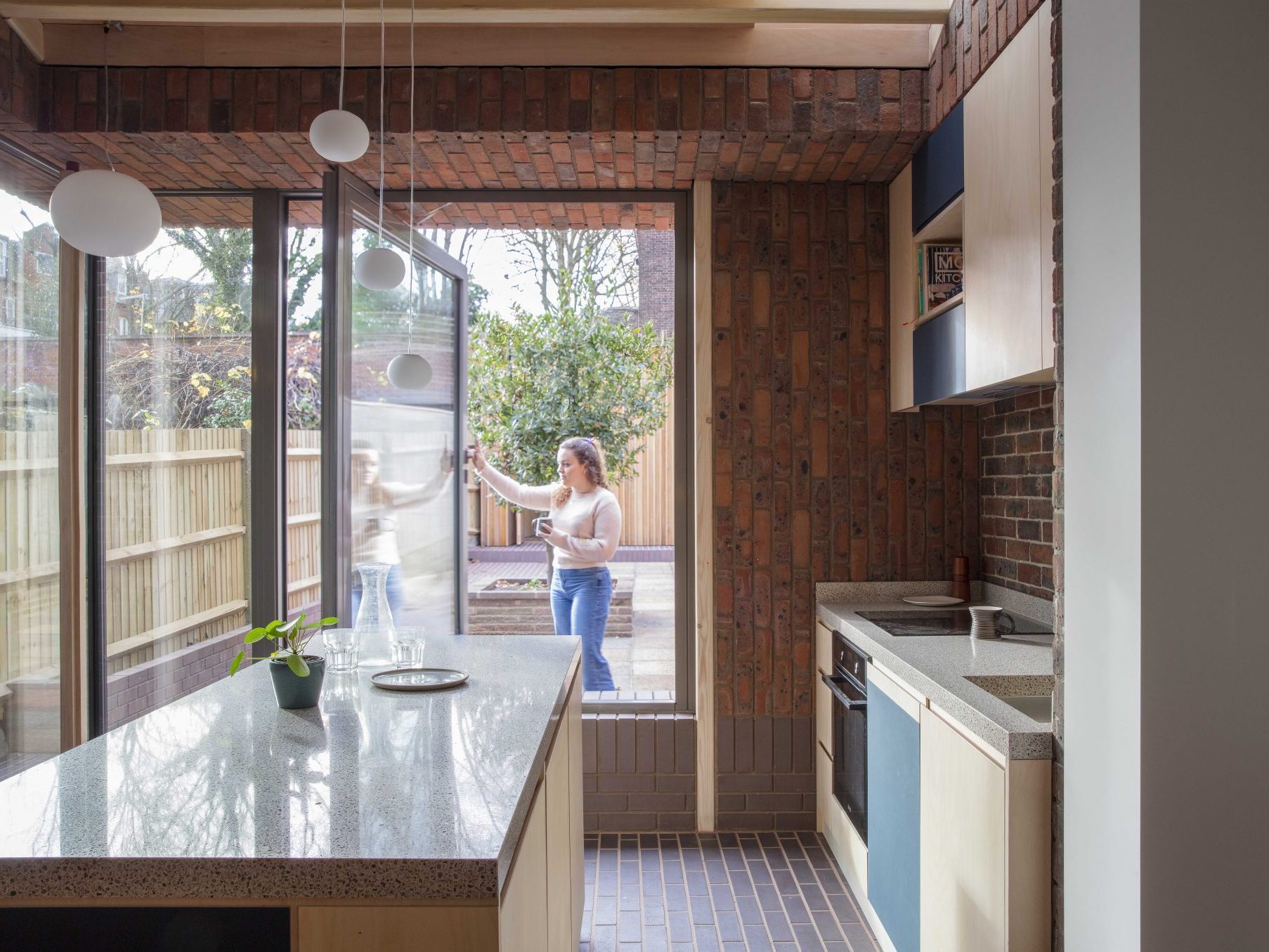 1950s Throwback to the Future, Belsize Park, London
Client: Private
Photographer: Emanuelis Stasaitis and SPA
Engineer: Ling Engineering
M&E Consultants: Enhabit
Contractor: Amirilan
QS: AJ Oaks & Partners
An unloved and long-unsaleable 1950s two-story terraced house in London NW3 has been given a new lease of life and a long and sustainable future by Sanya Polescuk Architects.  Part of an ugly duckling terrace of five houses in a long street of Victorian and Edwardian villas, the house has been refreshed, expanded and made entirely fossil-fuel free.
Design Principles:
Fabric first design ethos
Fossil fuel free
Materials re-used and kept out of landfill
Unfashionable style refreshed and respected
The original dark mahogany floor, concrete tiles and heavy clinker type bricks of the 1950s felt like an era of design recently neglected. A combination of the local modern icon, Erno Goldfinger's Willow Road and a much later and further afield, Barbican Centre.  The practice's ethos has always been to reduce waste and to find new purpose for found fixtures and materials.  We kept and celebrated this weighty, hewn-feel and took it further into new, rear extension and studio at the back of the garden.  On the ground floor, the rich palette of mid-century colours is set against the restored mahogany parquet, new Barbican-like tiled floors and light birch plywood fitted furniture. Up the original stairs, there are three bedrooms, made to feel bigger by the open-roof timber structure and bright yellow painted ceilings hovering above and two neat, all white-tiled and multi-colour pointed bathrooms.
Originally a small, street-facing kitchen looked out onto a large road junction. This space has been repurposed as a home for a combination of water cylinder, utility and bicycle storage.  The new kitchen is now the heart of the home, located in a pivotal point between the rear garden and the living space.  The timber structure is left exposed and the weighty, south-facing brick extension is hung lightly. The large pivot window frames the statuesque bay tree in the centre of the garden.  Unfashionable pavers and concrete bricks, saved from the skip are relaid in a new composition leading towards a small, timber-clad garden studio.  Although designed pre-pandemic the home-working environment has immediately come of age, allowing separate work space in a calm but textural space with exposed timber structure and a carpet of bricks leading all the way from the kitchen.
Designed to be a temporary rental property and eventually a retirement home, the materials chosen are there to last: tough, easy to clean but also warm and homely with emphasis on low VOC and no undesirable ingredients.  For example the linoleum on the floor and on joinery is made without vinyl. 97% natural materials contain nearly half recycled content. Hard wax is used to finish all timber.
Fabric-first approach was used as a refurbishment method. This meant improving thermal properties of the external walls, roofs and ground floor and eliminating drafts. The cavity walls were filled with blown insulation and further upgraded with internal insulation. All wall vents were retained externally but blocked internally. New Mechanical Ventilation with Heat Recovery (MVHR)  was installed instead in order to make for a warm, comfortable environment and much reduced energy demand.  Instead of a gas-powered boiler, an air source heat pump (ASHP), coupled with PV and solar-thermal roof panels provides heat and hot water.
The long, front 'garden' faces a wide pavement and a broad busy road. This seemed a perfect location for the ASHP. Shrouded in a custom-designed enclosure, a cunning twist on the shaped panels of the old, original calor-gas locker, it is hardly detrimental to the Conservation Area. Despite all that, an energy-sapping fight with the planners nearly ruined the well balanced and sustainable energy design.  A forward thinking fossil fuel strategy has clearly not yet filtered through to other areas of policy….