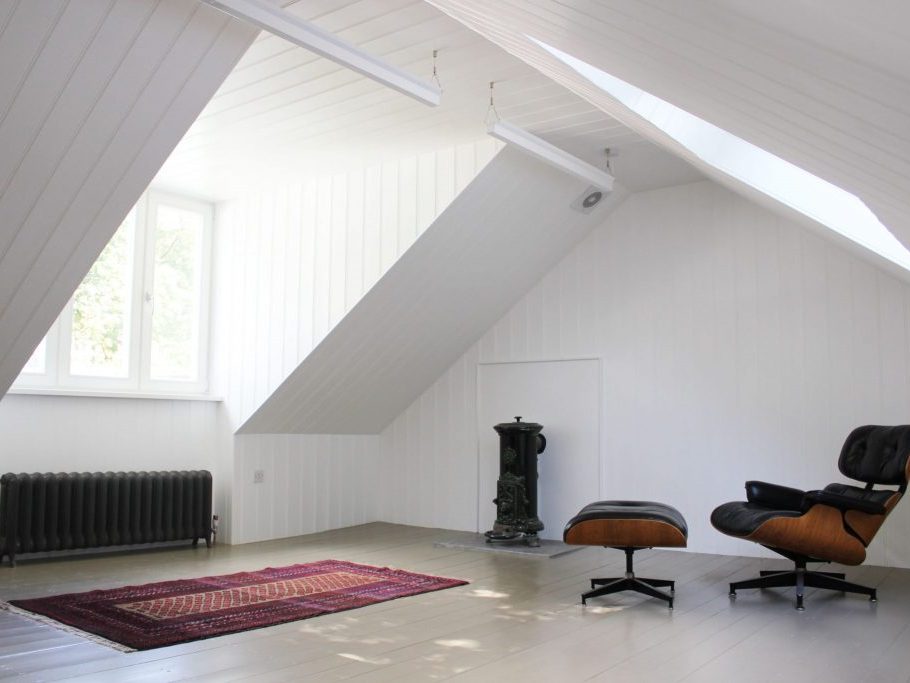 Mews Stable Maisonette - Belsize Park, NW3
Client: Private
Engineer: Michael Chester & Partners
Award: AJ Retrofit Award, winner, pre-1945 house
This four-bed upper maisonette, when built in late 19th Century, consisted of a home and a hay store; the coachman, looking after the horses and coaches occupying the ground floor, lived on the first floor while the hay was stored in the loft above. (For the works carried out at the ground floor see Studio in Stables.)
The property had changed since then a number of times. The first floor and the hay-loft became a flat, with living and the sleeping mixed between the two floors resulting in smallish spaces and only a single shower room. SPA reconfigured the found in order to maximise uses and improve energy-efficiency – the first floor is now completely dedicated to sleeping and bathing and loft space became an open plan kitchen, dining, and living space after an additional dormer was introduced. This increased the number of bedrooms and bathrooms and created a light-filled and sunny living areas.
In addition, the building underwent a thorough retro-fit, meeting The Code for Sustainable Homes, Level 4. According to an evaluation carried out by SuperHomes, it achieves a 75% reduction in energy consumption. Find the listing on SuperHomes' website
here. (SuperHomes, an energy saving homes co-ordinated by the National Energy Foundation.)
Many of the original Victorian elements were reused, reconditioned and upgraded to meet the demanding thermal performances of The Code. All sash windows and external doors were overhauled, draft-proofed and fitted with thin and efficient double-glazed units and insulated with vacuum-based insulation materials. All external walls and roof structure were internally lined and taped with foil-sided polystyrene insulation, the most efficient material on the market, significantly improving both insulating and air-tightness levels within. The new lead-clad dormers were fitted with triple-glazed casement and all new roof lights were triple-glazed too.
The new mechanical and electrical services include solar-thermal evacuated tubes, MVHR units recycling the heat from the wetrooms into the bedrooms, the fluorescent lighting throughout, the sanitary fittings for reduced water usage and all white goods are A-rated.
Most original internal features were re-used too – all internal doors, the original stairs, the hay-loft timber boarding, the ceramic coal heater and the cast iron radiators.
The planning permission for this project was granted from Camden Council without any objections.