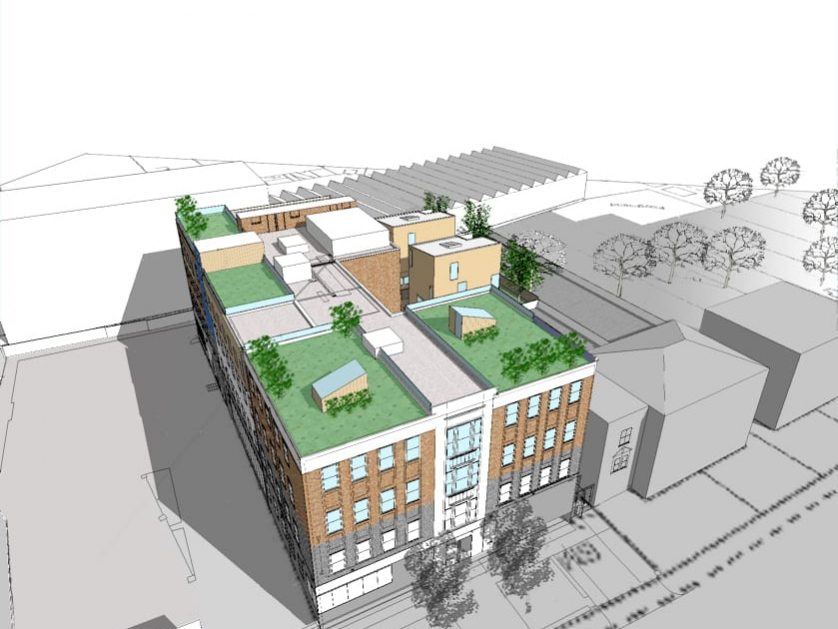 Mixed Use Development, London N19
Client: The Desilu Group, Property Owners & Management
The proposal introduces saleable residential units into a mid-20th century commercial business centre and its adjacent vacant lots near Holloway Road. 
The scheme converts the main building's top floor (650m2) into 7-flats and introduces two 3-story townhouses on the vacant lots (280m2). The flats are mixed sizes of 1/2/3-bdrms; the houses have 4-bdrms. The rentable commercial space on 2nd floor is also redeveloped & upgraded.
Design features embrace outdoor rooftop space & resources.  The houses have green sedum roofs with solar panels providing hot water. Most new flats have private, timber-decked roof terraces. Western Read Cedar boarding clads both the new houses & the new top floor flats, replacing the existing commercial glazing and highlighting the domestic scale.
All units comply with Lifetime Homes Standards & Building Reg's Part M.