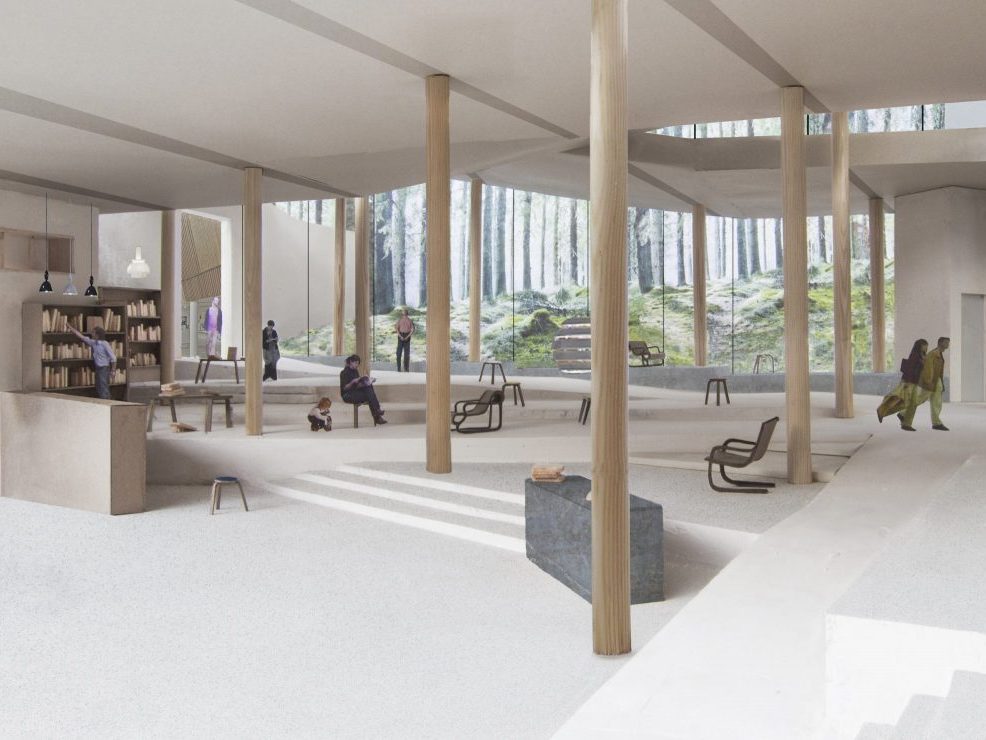 The Alvar Aalto Museum and The Museum of Central Finland Extension, Jyvaskyla, Finland
Competition 
Engineer: ARUP
And the museum is gradually becoming much more than a continuously expanding container for art – it is becoming a unique platform for human encounters.
— Chris Dercon, Director, Tate Modern, London UK
The Gateway is an indoor landscape of inclining ramps, steps and terraces. This new terrain connects the two muse- ums and their public spaces by reshaping the contours of the existing valley, and introduces a new forest of tall, slim timber columns. Aalto-designed furniture and objects populate the terraces and invite visitors to meander and browse while traversing between the two museums. Books and printed material line the perimeters walls.
The design takes inspiration from Aalto's own recurring themes of nature, steps and contours in his work. In the fast urbanising area of Ruusupuisto, with the overtly tectonic and geometric building forms of the new university building and its hard landscape, the new Gateway settles in softly in the landscape. It nestles low between the two museum buildings allowing views of the wooded hill beyond. The sedum roof peels upwards following the indoor landscape beneath to create glazed slits and allow natural light into the Gateway and the museums.